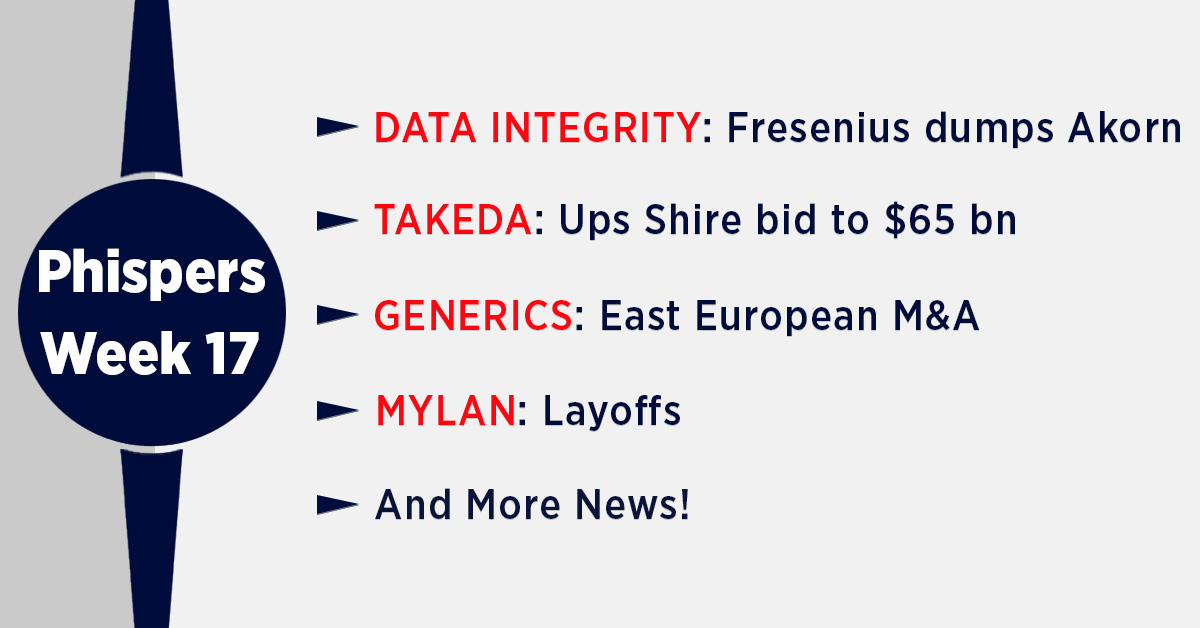 ×
PharmaCompass has maintained that 2018 would be the year of M&As. This week's Phispers only reaffirms our conviction as Takeda reached a preliminary agreement to buy Shire for US$ 65 billion. Fresenius, on the other hand, dumped the US$ 4.3 billion acquisition of Akorn due to data integrity concerns. While generic drug company Alvogen decided to put its East European generics business on sale, Sanofi sold off its European generic drug arm Zentiva to buyout group Advent. Meanwhile, Mylan announced it would lay off 500 employees at its West Virginia plant; and Heritage Pharma announced new leadership.



Takeda reaches preliminary agreement to acquire Shire for US$ 65 billion
Japanese drugmaker Takeda Pharmaceutical has reached a preliminary agreement to buy Irish drugmaker Shire for about US$ 65 billion. Shire confirmed it was prepared to recommend the offer to shareholders.
If the deal is completed, it would rank amongst the largest acquisitions in the world of pharmaceuticals, trailing Pfizer's US$ 112 billion takeover of Warner Lambert in 2000.
After rejecting several previous bids made by Takeda, the board of Shire finally gave in to the Japanese company's fifth bid. It's a big gamble on part of Takeda, which has embarked on an effort to emerge as a large and truly global pharma company. The deal could create a global pharmaceutical powerhouse with close to US$ 30.69 billion (£22 billion) in annual sales.
Investors in Takeda, however, remained skeptical about the company's aggressive expansion plan, as the company's shares plummeted 9 per cent post the announcement on April 25.
According to dealmakers, Takeda's acquisition of the rare disease drugmaker could push other big players such as Pfizer to make big acquisitions.
Last week, Shire had rejected a US$ 63 billion offer by Takeda. Takeda then boosted its offer to £47 (US$ 65.84) a share from £46.50 a share.
Meanwhile, Botox-maker Allergan confirmed it was considering an offer for Shire after Reuters reported on its interest. However, later its CEO Brent Saunders decided to drop his pursuit of Shire after he received a pushback from some of his shareholders.
Shire, with a market value of around US$ 48.3 billion (£34 billion), is worth a lot more than Takeda, which has a market capitalization of US$ 31 billion (4.1 trillion yen). Therefore, the acquisition by Takeda is considered to be a stretch for the Japanese drugmaker, even though it says it would remain disciplined in its approach.



Fresenius dumps US$ 4.3 billion Akorn deal over data integrity violations
Last month, PharmaCompass had carried news that German drug major Fresenius may back out of its planned acquisition of Akorn if an independent probe into data integrity at Akorn yields evidence of wrongdoing. Fresenius had acquired Akorn in April 2017. The transaction was expected to close in early 2018.
Late last week, Fresenius dumped its US$ 4.3 billion acquisition of Akorn. The two companies are now settling the matter in court, as Fresenius alleged that Akorn misled it over its operational weaknesses, including problems with its product-development practices.
Illinois-based Akorn filed a lawsuit in the Delaware Chancery Court asking that Fresenius be required to "fulfill its obligations" under the buyout agreement. Fresenius said experts cited "material breaches" of US Food and Drug Administration (FDA) standards while reviewing Akorn's operations.
Fresenius obtained "clear and comprehensive representations and warranties" regarding Akorn's product development and new-drug applications, spokesman of Fresenius SE, Matthias Link, said in an email. "The investigation has determined, among other findings, that these representations and warranties were not true."
Under the terms of the deal announced in April 2017, Akorn had agreed to pay a US$ 129 million termination fee if the agreement fell through, Fresenius said.
The deal didn't look like a disaster when first announced. It was a strategic fit for Fresenius and had the potential to add to Fresenius earnings in 2019.
While the exact nature of observations into Akorn's product development processes have not been published, an FDA inspection conducted in April 2017 at Akorn's Decatur (Illinois) facility found particle contamination in washed vials.



Emcure's Heritage Pharma, accused of price fixing, appoints new leadership
On April 18, Heritage Pharmaceuticals Inc, an East Brunswick-based specialty generic pharmaceutical company, announced that industry veteran William S. Marth has joined the company as president and chief executive officer, North America and Europe, of the company's parent, Heritage Pharma Holdings Inc. Heritage is a wholly-owned subsidiary of Emcure.
Marth previously served as the president and CEO for AMRI, a global contract research and manufacturing organization, until January 2018.
Here's a little background on Heritage: In December 2016, Heritage had made a list of accusations against two former executives of Heritage Pharmaceuticals — Jason Malek and Jeffrey Glazer. The company had said over the course of at least seven years, Glazer and Malek looted tens of millions of dollars from Heritage by misappropriating its business opportunities, fraudulently obtaining compensation for themselves, and embezzling its intellectual property.
"The magnitude of defendants' theft is captured in an August 2015 text message exchange, in which Glazer told Malek that their scheme had netted US$ 466,000 in profit that day."
PharmaCompass had covered the illegal practices at Heritage Pharmaceuticals that had come to light when Emcure had filed a lawsuit against Glazer.
In early 2017, Malek and Glazer had pleaded guilty to fixing prices for generic pharmaceuticals in the criminal probe. In February 2018, during a price-fixing class action suit, the US Department of Justice (DOJ) had found their plea deals mandate full cooperation with the DOJ's investigation.
The probe had grown over the years to span more than a dozen generic companies and about two dozen drugs.



Alvogen puts East European generics business on sale; Sanofi sells Zentiva unit
Generics firm Alvogen is putting its Central and Eastern European (CEE) operations up for sale. Buyout group CVC and Singapore state fund Temasek, which bought a controlling stake in Alvogen in 2015 at US$ 2 billion, have asked investment bank Jefferies to find a buyer for Alvogen's CEE business, which may be valued at up to US$ 1 billion.
The sale of its CEE operations would come amid a flurry of other generics company deals.
Buyout group Advent bought Sanofi's Zentiva unit, beating groups such as Carlyle, BC Partners, Blackstone, Nordic Capital, as well as Brazilian drugs firm EMS and India's Torrent Pharma. Last year, Bain and Cinven had acquired Germany's Stada, beating rivals Advent and Permira. Sanofi is selling the unit to Advent for US$ 2.4 billion (EUR 1.9 billion) as part of a broader move by chief executive officer Olivier Brandicourt to focus resources on biotechnology and new medicines.
Brandicourt has undertaken several transactions to shift Sanofi towards businesses with more potential for growth. This year, the company has announced deals worth US$ 16 billion, including the acquisition of Bioverativ Inc. to expand in hemophilia treatments and Ablynx NV to gain an experimental medicine for another rare bleeding disorder.
While Alvogen's owners have not begun an official auction, they have started reaching out to the firms that showed an interest in Stada and Zentiva.
"The private equity owners of these companies have said that they want to use the platforms to build strong generics players, so most of the groups which showed an interest in Zentiva and Stada are expected to raise their hands for Alvogen's Eastern European ops," a source said.
Alvogen was founded in 2009 by former Actavis CEO Robert Wessman. Since then, Alvogen has emerged as a manufacturer of generics, over-the counter and biosimilar drugs with operations in 35 countries, employing 2,800 staff.
In Central and Eastern Europe, Alvogen has manufacturing facilities in Romania and a packaging center in Serbia serving the entire region.
Separately, Novartis AG has begun a US$ 8.7 billion cash offer for biotech company AveXis Inc to gain at least one promising experimental drug for a rare and often fatal disease. This way, it would also use up some of the US$ 13 billion it received from selling its stake in a consumer-health joint venture.



Mylan to lay off 500; braces for lucrative launches as Pfizer's Herceptin biosimilar faces rejection
With Alvogen and Sanofi selling their generic units, it's evident that the generic drug industry is going through a tough time. One such signal also came from Mylan, which announced it would lay off about 15 percent of the workforce at its drug manufacturing plant in Morgantown, West Virginia. The generic drugmaker is laying off about 500 employees.
According to a company statement, after the layoffs, up to 3,000 employees will continue to work at the plant.
"We remain committed to a US manufacturing base and plan to continue making the majority of the medicines we supply to the US in the US," Mylan said. The company manufactures, markets and distributes more than 393 drugs in the US.
The company characterized the action as "right-sizing" and said it was "consistent with discussions" it was having with the US FDA.
However, the job cuts come ahead of some potentially lucrative launches for the company. Mylan's Advair generic could win a US approval this year, allowing it to challenge GSK's blockbuster inhaler. Moreover, Mylan's biosimilar to Amgen's white blood cell booster Neulasta could roll out in mid-2018.
Meanwhile, Pfizer announced the FDA has issued a Complete Response Letter (CRL) for PF-05280014 — a proposed trastuzumab biosimilar referencing Herceptin. On April 5, another biosimilar of trastuzumab by Celltrion and Teva had been rejected by the FDA.
These two regulatory setbacks for biosimilar trastuzumab leave Mylan and Biocon's Ogivri, which received the FDA approval in 2017, as the only approved trastuzumab biosimilar in the US. However, the launch date for Ogivri has not been announced as yet.
The PharmaCompass Newsletter – Sign Up, Stay Ahead
Feedback, help us to improve. Click here
Image Credit : #Phisper Infographic by SCORR MARKETING & PharmaCompass is licensed under CC BY 2.0
" The article is based on the information available in public and which the author believes to be true. The author is not disseminating any information, which the author believes or knows, is confidential or in conflict with the privacy of any person. The views expressed or information supplied through this article is mere opinion and observation of the author. The author does not intend to defame, insult or, cause loss or damage to anyone, in any manner, through this article."
Read More