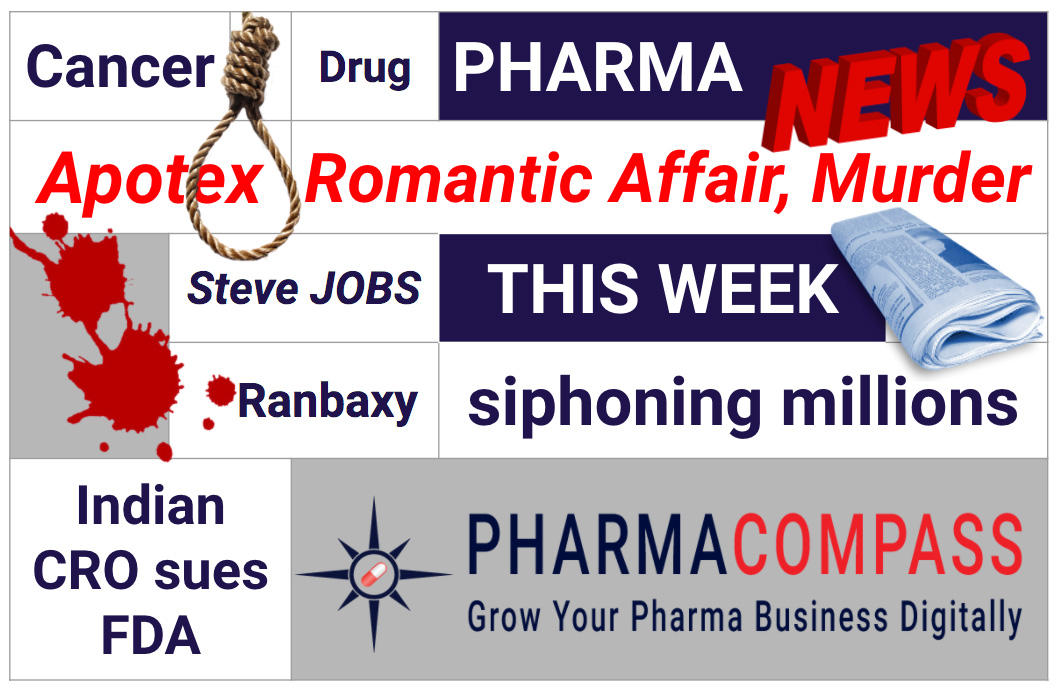 ×
This week in Phispers, we bring you news on the Singh brothers, the former promoters of Ranbaxy, who lost a case in the Delhi high court, and will now have to pay US$ 550 million to Japanese drugmaker Daiichi Sankyo. There is an update on investigations into the deaths of Apotex founder Barry Sherman and his wife, even as the company goes through a churn at the top. In June 2017, the USFDA had ruled that generics relying on data from Semler Research are not considered equivalent to the brand. Now, Semler has sued the FDA for 'annihilating its business'. Meanwhile, the M&A frenzy continued as Sanofi snapped up another biotech firm — Ablynx — for US$ 4.8 billion. The US
FDA
a
pprove
d AAA's Lutathera; and J&J opted out of the race for
Pfizer
's US$ 20 billion consumer unit.



Delhi HC allows Daiichi to recover US$ 551 million from Ranbaxy's Singh brothers
This has been a terrible week for the former promoters of Ranbaxy Laboratories — Malvinder and Shivender Singh. First there was news that a New York-based investor has filed a lawsuit in the Delhi High Court accusing the duo of "diversion, siphoning and digression of assets", adding another lawsuit to the list of cases against the two brothers.
And yesterday, there was news that the Delhi High Court has allowed Japanese drugmaker Daiichi Sankyo to enforce a foreign arbitral award to recover about US$ 551 million (INR 35 billion) from the siblings.
The verdict means Daiichi can now enforce the award granted by a Singapore arbitration tribunal in April 2016. The verdict had been reserved by Justice Jayant Nath in September 2017.
Daiichi Sankyo had purchased a majority stake in Ranbaxy for US$ 4.8 billion in 2008. However, Daiichi alleged foul play in the sale after it had to pay US$ 500 million as settlement fee to the US Federal Drug Administration and Department of Justice in 2013 due to 'concealment and misrepresentation' of critical information by the Singh duo.
In November 2013, Daiichi placed the dispute before an arbitration tribunal in Singapore. And in April 2016, the arbitration tribunal in Singapore ruled in favor of Daiichi and directed the Singh brothers to pay about US$ 403 million (INR 25.63 billion) in damages for concealing information.
The fresh arbitration case by the New York-based investor pertains to the Singh duo's publicly traded financial services firm — Religare Enterprises. In a 700-page suit filed in November 2017, it alleged that Religare Enterprises made 21 loans to a number of 'seemingly independent companies', which in turn routed at least US$ 300 million back to firms privately held by the Singhs on the same day.
According to a Bloomberg news report, the lawsuit alleges that the Singhs diverted the lender's funds to help them out with a personal debt load of about US$ 1.6 billion.
The plaintiff, a fund managed by US$ 12.6 billion private equity firm Siguler Guff & Co with a six percent stake in the Singhs' small-business lending unit — Religare Finvest Ltd, has asked the court to stop Finvest from lending more money to the Singhs and prevent its parent from selling assets. The step aims to ensure Religare has the money to pay a potential liability that maybe pursued by the investor in arbitration, the suit says.
In an emailed response, Religare said the allegations are "completely baseless".



Apotex founder was murdered, says police; its president resigns over Teva's lawsuit
Homicide detectives in Canada confirmed drug-company Apotex's billionaire founder Barry Sherman and his wife Honey were murdered. However, the authorities have no suspects as yet. They say the couple were targeted, strangled, then held upright by leather belts looped around a railing of their mansion's indoor pool.
The Shermans were found dead in their home on December 15. Initially, the media quoted unidentified police officials as saying the deaths appeared to be a murder-suicide. The police have taken 125 witness statements and analyzed surveillance video.
Meanwhile, Apotex's president and CEO Jeremy Desai resigned last week. He was facing a lawsuit that alleges he accepted trade secrets leaked from a competitor.
The lawsuit was filed in July last year in a Pennsylvania federal court, by Teva against its ex-employee Barinder Sandhu who was senior director, regulatory affairs, US generics at Teva USA, until her termination in October 2016. Desai previously worked with Apotex's competitor Teva. And he was reportedly in a relationship with Sandhu.
In the lawsuit, Teva claimed that Sandhu breached her confidentiality agreement by sharing trade secrets and other confidential information to benefit Apotex's own competitive product development. The allegations have not been proven in court and Apotex, Sandhu and Desai have filed motions to dismiss the complaint.



Semler fights back, sues USFDA for US$ 50 million for annihilating its business
In June last year, we had reported on Semler Research Center (SRC), and how the US Food and Drug Administration (USFDA) had ruled that generics relying on data from Semler are not considered equivalent to the brand.
The USFDA had issued SRC an "untitled letter" stating evidence of data manipulation discovered by it in a number of bioanalytical studies during an inspection of its facility in Bangalore (India) during September-October 2015.
USFDA's action against Semler had prompted the World Health Organization (WHO) and the European Medicines Agency (EMA) to also investigate into Semler, and take action against the contract research organization (CRO).
Semler is now fighting back, and the bone of contention is an Excel spreadsheet discovered by the FDA investigators, referred to as the 'Suspect Spreadsheet'.
Last week, Semler filed a lawsuit against the FDA, the United States Department of Health and Human Services (HHS) and the United States of America, along with various individuals, for total damages of approximately US$ 50 million (Euro 40 million).
It says the US FDA caused "complete annihilation" of its business after regulators rejected bioanalytical studies on the back of data integrity concerns.
According to Semler, it was a victim of fabricated data that was placed in the Suspect Spreadsheet by a rogue employee who was "acting in concert with a group of former employees of SRC that were working for a competing CRO in Bangalore after the BA/BE head (and the person who started the new CRO) had parted ways with SRC".
On the basis of the spreadsheet, the "FDA concluded there were serious inconsistencies in the research conducted by SRC and asked SRC to explain the reasons for the Suspect Spreadsheet and to justify that the information of the Suspect Spreadsheet is false," claims SRC's lawsuit.
An independent audit, the results of which were sent to the FDA in January 2016, "revealed no evidence of data manipulation and confirmed that all Standard Operating Procedures and study specific protocols were followed, and in the rare instance there was a deviation it was documented and explained and had no impact on the results of the study," Semler said in the lawsuit.



After Bioverativ, Sanofi snaps up another biotech firm — Ablynx — for US$ 4.8 billion
French drugmaker Sanofi is on a shopping spree. After buying hemophilia specialist Bioverativ earlier this month for US$ 11.6 billion, it recently agreed to buy Belgian biotech company Ablynx for US$ 4.8 billion (Euro 3.9 billion), beating Denmark's Novo Nordisk.
Experts predict that 2018 will be a bumper year for M&As. During January, we saw biotech M&As worth US$ 26.3 billion. The year began with multibillion-dollar deals in biotech, which included the acquisition of Juno Therapeutics by US-based Celgene. According to Thomson Reuters data, this is more than 80 percent of the value of all deals in 2016 and far ahead of any comparable January tally in over a decade.
Ablynx specializes in the research of novel drugs based on nanobodies (which are found in the immune systems of llamas and alpacas). Ablynx partners with several of the world's largest pharmaceutical companies.
Sanofi would pay US$ 56 (Euro 45) per share in cash for Ablynx. Earlier, Ablynx had rejected a US$ 3.2 billion (Euro 2.6 billion) offer from Novo Nordisk.
Deals in the biotech space are driven by the need for large drug makers to tap the promising new medicines being developed by smaller rivals in order to rev up their sluggish growth engines.



FDA
approves Lutathera, drug for cancer that killed Steve Jobs; Roche wins European Hemlibra approval
Last week, the USFDA approved a radioactive drug — Lutathera — to treat the ultra-rare type of digestive tract cancer that had killed Steve Jobs in 2011. The European Medicines Agency had approved Lutathera in September 2017.
In October 2017, the makers of Lutathera — French company Advanced Accelerator Applications SA — got acquired by Swiss giant Novartis AG for US$ 3.9 billion.
Lutathera is an unusual drug — it harnesses the same molecule used to diagnose cancer to deliver the treatment for the disease. The radiopharmaceutical injection works by hitting cancer cells with high energy electrons, just like radiotherapy, but targets gastroenteropancreatic neuroendocrine tumours (GEP-NETs) that over-express a certain protein.
Lutathera's list price is about US$ 47,500 per dose, with the usual treatment period including four doses. The treatment reduced the risk of the disease progressing by 79 percent in a late-stage clinical trial, AAA said.
This is the first US approval for a treatment of this kind, known as peptide receptor radionuclide therapy. As per USFDA estimates, each year, one out of 27,000 people are diagnosed with GEP-NETs.
Meanwhile, a panel under EMA's Committee for Medicinal Products for Human Use (CHMP) has recommended approval of Roche's Hemlibra to treat hemophilia in some patients. Roche had won the nod for selling Hemlibra in the US last year.
The EU's CHMP adopted a positive opinion for Hemlibra for routine prophylaxis of bleeding in people with hemophilia A who have developed resistance to standard treatments.
With Hemlibra, Roche hopes to offset falling sales of three of its biggest drugs that have lost or will lose patent protection — Rituxan, Avastin and Herceptin. Some analysts expect peak Hemlibra sales of more than US$ 2 billion a year.



Sun Pharma chief says s
lump in
US g
eneric
prices won't last long
Israel Makov, chairman of India's largest drugmaker — Sun Pharmaceutical Industries, said he doesn't expect the slump in US generic prices that's unsettling the global industry to last long.
While speaking at the World Economic Forum in Davos, Makov said pressure on prices will eventually lead to restrictions on supply that will hurt the healthcare industry. "I see this as a temporary cycle," he told BloombergQuint.
According to Makov, the current turmoil in the generic industry could be an opportunity for companies from India, already the world's largest exporter of generics, to increase its share in the global market.
Generic drug prices in the US have been on a tailspin due to intensifying competition and consolidation among pharmacies. This, in turn, has sent the global industry for generics in a tizzy. The world's largest generic maker Teva Pharmaceuticals has seen its growth plans go awry, and it is selling assets, shutting down plants and reducing its workforce by as much as 25 percent in order improve its business and financial performance. Makov, 78, was the CEO of Teva until March 2007.



J&J opts out of the race for
Pfizer
's US$ 20 billion consumer unit
Johnson & Johnson was considered the strongest contender for Pfizer's consumer health unit as it wants to continue expanding its portfolio and has the financial muscle for a big acquisition. Back in 2006, J&J had snapped up Pfizer's previous consumer health business for US$ 16.6 billion. And the same was expected of J&J in 2018, as Pfizer gears up to put its consumer unit, that makes Advil painkiller, Centrum multivitamins and Chapstick lip balm, on the block.
However, in a surprise move last week J&J pulled out of the race to buy Pfizer's consumer health business.
J&J is cash rich — it is about to bring home US$ 12 million in overseas cash, thanks to new tax laws in the US. However, CEO Alex Gorsky told investors the company would put a good chunk of that money back into R&D.
J&J had initially worked with Goldman Sachs on a possible bid. With J&J out, drugmaker GlaxoSmithKline and consumer goods group Reckitt Benckiser are left in the game. And the two players are learnt to be preparing bids. GSK has reportedly hired JPMorgan and Citi to work on the deal, while Reckitt has hired Bank of America.
The deal could be a game-changer for GSK or Reckitt by making them one of the biggest global players in consumer health, which has emerged as a booming sector worldwide.
Though the company is yet to make public any details about the sale process, a Reuters report says Pfizer wants to sell this unit for no less than US$ 20 billion.
The PharmaCompass Newsletter – Sign Up, Stay Ahead
Feedback, help us to improve. Click here
Image Credit : Phisper Infographic by PharmaCompass is licensed under CC BY 2.0
" The article is based on the information available in public and which the author believes to be true. The author is not disseminating any information, which the author believes or knows, is confidential or in conflict with the privacy of any person. The views expressed or information supplied through this article is mere opinion and observation of the author. The author does not intend to defame, insult or, cause loss or damage to anyone, in any manner, through this article."
Read More