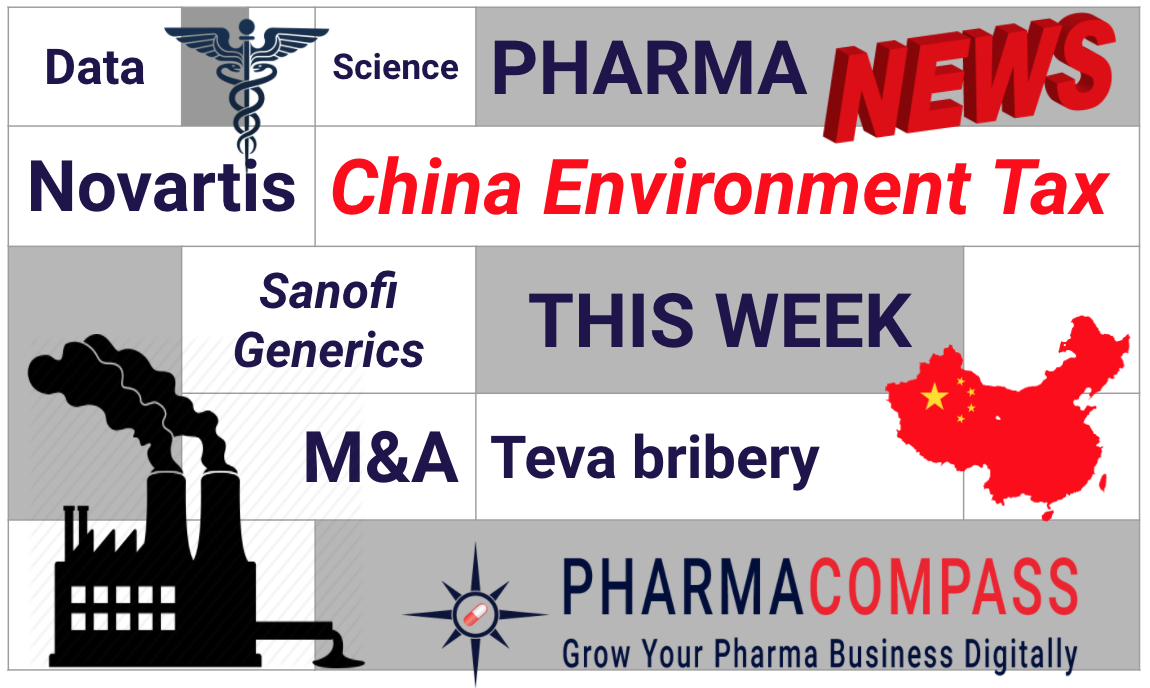 ×
This week, Phispers looks at the new environment protection law in China that came into force this month. The environment tax under this law is expected to hit businesses and push up drugs prices. Teva, which has received much flak for its restructuring plan announced last month, said its directors would undergo a pay cut. After taking action against Chinese drug firms, India now plans to inspect drug companies in the US and EU from which it imports critical medicines. Meanwhile, CEO-elect Vas Narasimhan talks about reimagining Novartis as a 'medicines and data science' company. And Indian pharma majors line up to bid for Sanofi's European generic business.



China's environment tax to roll out from April; may spike drug prices, hit businesses
Come April, and China will levy tax on businesses and public institutions that discharge pollutants, based on the country's new Environmental Protection Tax Law that came into effect on January 1 this year.
The law seeks to encourage environment-friendly production models for high-quality economic development, and relates to air, water, solid waste and noise pollution.
This new law replaces the pollutant discharge fees that used to be collected by the local environmental protection departments, of which the central government used to take a 10 percent share.
The new regime is expected to hit businesses in China quite drastically. For instance, polluters nationwide will face a levy of between 1.2 yuan (US$ 0.18) and 12 yuan (US$ 1.8) for every 0.95 kilogram of nitrogen oxide or sulphur dioxide they release.
Kenneth Leung, Ernst & Young's Greater China's indirect tax leader, said the "fee to tax" shift could cost some large state-owned businesses in the chemicals and energy sector 40 per cent to 300 per cent more than they were paying under the previous system.
Since the pharmaceutical industry is a major polluter in China, it too may have to cough up huge amounts of the green tax, which in turn would increase the drug prices. Similarly, the new environment tax may spike up petrochemical prices this year as production cost is projected to increase.
The Environmental Protection Tax Law Implementation Regulation was announced by the China's cabinet on December 27, 2017. The law was passed by the National People's Congress Standing Committee in 2016. The Chinese government is also exploring the possibility of taxing other pollutants, including carbon dioxide.
According to a Reuters report, companies in China accused of violating environmental regulations paid fines to the tune of US$ 154 million (1.02 billion yuan) in the first 10 months of 2017, up 48 percent from a year earlier.
In April last year, around 70 percent of companies visited by inspectors over two weeks were found to be violating environmental rules, China's environmental authority said.
In 2017, China set large reduction targets for the concentration of air pollutants. And in September 2017, a news report said 12,000 officials were disciplined and 18,000 companies punished in China's sweeping crackdown against pollution.



Teva settles bribery probe; its directors to face pay cuts this year
In December, when Teva announced its restructuring plan under its new CEO Kåre Schultz, it received fierce public criticism. Among other things, the plan intended to lay off 14,000 employees worldwide and close down up to 25 manufacturing plants in the next two years. A part of the criticism also centered on the high salaries the Israeli drug major was paying its senior executives and board members.
However, Teva recently said its board of directors had decided last month to cut the financial remuneration of its members for 2018. "It should be noted that chairman Sol Barer agreed to forego his financial remuneration from August 2017 until December 2018," Teva told Globes, Israel's financial newspaper.
The company announced the cut after Zvi Stepak, chairman of Meitav Dash, a fund management company in Israel, told the Globes Business Conference that the board should set an example.
Stepak had said: "I would expect Teva's board of directors to set a personal example and forego a certain percentage of their salary cost — not because they are guilty over what happened to the company, but in solidarity with the employees."
Teva's directors earn US$ 160,000 annually and bonuses of US$ 10,000 to US$ 20,000 per year for sitting on various committees. They also enjoy blocked share options. Chairman Sol Barer is entitled to US$ 567,000 per year and blocked shares worth US$ 378,000.
Meanwhile, Teva has been ordered to pay US$ 22 million (NIS 75 million) in fines by the Israel Justice Department as part of a settlement in which the drug-maker admitted to paying bribes in Russia, Ukraine and Mexico in order to increase sales. However, Teva was spared of criminal charges.
The case included bribes by Teva to a "high-ranking Russian government" official who used his authority to boost sales of Teva's multiple sclerosis drug Copaxone, resulting in more than US$ 200 million in profits for Teva and about US$ 65 million for the Russian official between 2010 and 2012.
Israeli authorities began looking into the bribery accusations a year ago after Teva agreed to pay nearly US$ 520 million to the US Department of Justice and the Securities and Exchange Commission to resolve violations of the Foreign Corrupt Practices Act.



After action against China, Indian regulator plans inspections in US and Europe
Last week, PharmaCompass reported how India's Central Drugs Standard Control Organisation (CDSCO) had taken action against drug makers in China for quality lapses.
Now, India's drug regulator plans to inspect facilities in countries with stringent regulatory systems such as US and EU. This includes pharmaceutical facilities that make "critical" medicines so that only high quality products are imported from them, government officials told The Economic Times.
The report said it had reviewed parts of CDSCO's proposal. "There are over 28 manufacturing sites registered in India from the US," it said.
An official said CDSCO would measure drug facilities in the US and Europe against World Health Organization's good manufacturing practices (GMP). "Our motto is to improve the quality of medical products...it is possible if GMP standards are being followed," the official said.
India imports medicines like biologics, cancer medicines, drug intermediates for APIs and patented medicines from places including the US, European Union (EU) and China.
According to the CDSCO proposal, the sites will be inspected if they have manufactured substandard drugs, received quality complaints, or faced action by other regulatory authorities. The regulator has also proposed inspection of facilities that make "high risk" or "critical" medicines, and those that export large quantities of antibiotics, anti-diabetics and hypertensive drugs to India.



Indian firms to bid for Sanofi's generic business; Intas lowers offer for Mallinckrodt
Indian drug companies — Aurobindo Pharma, Zydus Cadila, Torrent Pharma and Intas — have expressed preliminary interest in buying the European generics business of Sanofi.
The Indian drug majors are positioned against top drugmakers in China, as well as several global private equity players. Therefore, the Indian drug majors may tie-up with strategic players to pitch for the Paris-headquartered drug major's generic business.
Europe's leading private equity player Apax Partners is joining forces with Zydus Cadila while Intas is backed by Temasek and Chrys Capital.
In January 2017, Sanofi had said it plans to finalize the sale of the generic drugs business by the end of 2018. The unit employs 3,000 people and reported about US$ 977.25 (Euros 800 million) in sales in 2016.
Meanwhile, India's Intas Pharmaceuticals is offering just under US$ 1 billion to acquire UK-based Mallinckrodt's US generics business. The offer price is learnt to be in the range of US$ 950 million to US$ 1 billion, which is below the asking price of at least US$ 1.2 billion.
Both Intas and Mallinckrodt are reportedly sticking to their respective positions, thereby slowing down the negotiations.
Intas, a privately held drug company, is learnt to have lowered the final valuation on fears of future lawsuits involving Mallinckrodt's opiate-based painkillers, which is facing a crackdown for its addictive potential. Intas is said to be the only serious bidder left in the fray.
There is much reason why Indian companies are keen on making global acquisitions. A Crisil report estimates Indian drug industry's revenue to increase by 9 percent per annum until fiscal 2020. However, overseas revenue is estimated to grow by only 1 percent in 2018. Therefore, overseas acquisitions may improve overall sales, with domestic growth in the range of 10 to 11 percent.



CEO-elect reimagines Novartis as a 'medicines and data science' company
In a blog written on LinkedIn, Vas Narasimhan, who is currently the Global Head of Drug Development and Chief Medical Officer at Novartis and is due to take charge as the CEO of the company next month, said he is highly optimistic about the use of data and emerging digital technologies in developing medicines.
"As an industry we have vast datasets built from having conducted countless studies in thousands of diseases and in some cases, like ours, going back decades. At Novartis this is our goldmine: our wealth of clean, curated, longitudinal and interventional data that if we take full advantage of, has the potential to completely transform the way we develop medicines," he said.
According to Narasimhan, technologies that Novartis has been investing in uniquely positions the company to lead the digital revolution in pharma. The technologies lead him to reimagine Novartis as a 'medicines and data science' company.
And while there are many opportunities, the integration of digital and data science into the pharma operating model presents new challenges. It challenges our industry to think differently, and to be collaborative and transparent in ways we aren't used to. The road ahead will not be easy. But we have a resource that others don't – our deep experience and understanding of the science of medicine: the biology of disease and the human body, how to create medicines, how to work with regulatory bodies from around the world to bring them to patients. This is an expertise that's been crafted over decades, and will remain one of the most critical parts of the new, broader healthcare ecosystem," he said.
The PharmaCompass Newsletter – Sign Up, Stay Ahead
Feedback, help us to improve. Click here
Image Credit : Phisper Infographic by PharmaCompass is licensed under CC BY 2.0
" The article is based on the information available in public and which the author believes to be true. The author is not disseminating any information, which the author believes or knows, is confidential or in conflict with the privacy of any person. The views expressed or information supplied through this article is mere opinion and observation of the author. The author does not intend to defame, insult or, cause loss or damage to anyone, in any manner, through this article."
Read More